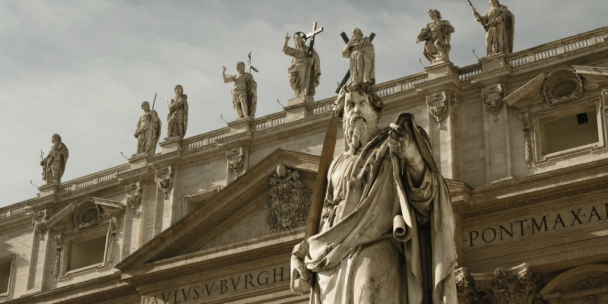 Modern kings and royalties have no significant power. They are mostly figureheads enjoying celebrity status. Today's celebration of the kingship of Christ is derived from a time in history when the king used to be all in all, the ruler, the commander in chief; and his edicts are to be obeyed by all or be ready to go to the gallows; he was the lawmaker, the ultimate judge and his decisions were unquestionable.
The prototype of Christ the King was David who enjoyed all the above powers plus immense respect, adulation and love from the people because of his qualities of authority, care
and love for them and for his total submission to the will and power of the Almighty God. The uniqueness of Christ the King is that he is not just a king, but is the maker and ruler of all the universe, all that we call creation; and his power and dominion is without a beginning and an end; he is the Almighty. Unless our life orientation is rooted in our total surrender to the dominion of God and Our willingness to obey his infallible commandments, we are not likely to understand the kingship of Christ.
Our modern day children, with scant or no knowledge of God and his power, are not likely to understand who Christ the King is or what his power and dominion are. To them Christ the King is irrelevant. Modern day powers try to banish God and everything divine out of the public sight. They think that they can banish God from the face of the earth. Such powers include those in political authority, the media which work as the opinion makers and opinion leaders influencing the minds and hearts of the world population especially the young generation and a major chunk of the public who think that they know everything and beyond their knowledge there is nothing above or below.
Those who happen to have the interiority and a sense of the Absolute from whom all authority flows, are reduced to be the minuscule and insignificant minority. Don't be discouraged, don't flee away. These are precisely the 'remnant', which God will use to build up his kingdom and his household. Cheer up, "Put on the whole armor of God, ….fasten the belt of truth around your waist, put on the breastplate of righteousness,…take the shield of faith,.. and the helmet of salvation, and the sword of the Spirit, which is the Word of God" (Ephesians 6:11-17), and fight for the King!
Fr. George